CURIOSITIES
Robertson's are not the only source of Golly badges. Other badges were available even before Golly's retirement from Robertson's in August 2001. In addition, a large number of Golly badges have been issued since. This section shows some of these badges from other sources. For more information see the list of Golly Badge Issues from 2000 Onwards as well as the Photos of some of these badges.




Neil Robertson is a hot air ballooning enthusiast and his interest has led to the creation of several Golly balloons and in turn, to brooches that celebrate these designs.

[With the exception of the Castle Howard and Gomm Silver Balloon brooches all the balloon brooches pictured are Unauthorised by Robertson's]

The Balloons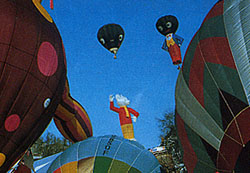 The Brooches


Golly I made by Gomm
Golly I (silver or gold finish)
Golly II (silver or gold finish)
Golly III, view from front(silver or gold finish)
Golly III, view slightly from the side (silver or gold finish)
Golly II, Golly I and Golly III (silver or gold finish)
Golly II, Golly III and Golly I (silver or gold finish)
Golly II, Golly III, Golly IV and Golly I (silver or gold finish)
---
Golly & Rupert
[Unauthorised by Robertson's]


These brooches are from the Rupert range that are used as fund raisers for the Police. Rupert with his arm around Golly was issued around March 1999, many variations then followed. Rupert and Golly in the Car (with registration R2000G!) was issued around August 2000 and a second with a blue car was issued in November 2000. Golly is a popular character in the Rupert adventures but some of the politically incorrect references surrounding Golly have led comic strips and annuals featuring the character to be scrutinised before republishing is allowed.(With thanks to Martin Floyd)

Richard Burton has several Golly & Rupert brooches for sale.
The Union Jack style Golly & Ruperts started to appear in the first half of 2002.
---

Kellogg's have long been renowned for their "gifts" enclosed in the cereal packets. This one dates back to 1966 and was part of a "Noddy Club" set. Other characters given away were: – Noddy, Big Ears, PC Plod, Tessie Bear and Mrs Fluffy Cat! Noddy has an earlier date of 1962.
The reverse of the brooch carries © N.S.R. Co LTD 1966 and the Kellogg's logo.
---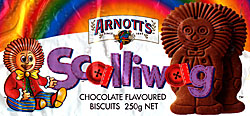 Arnott's are an Australian biscuit manufacturer. One of their products in particular, Tim-Tams, are very popular in Australia. Arnott's also produce Scalliwag biscuits. They used to have a shop at Darling Harbour, Sydney in which this brooch was available for $9.95 (Australian Dollars). However, Arnott's World of Adventures at Darling Harbour closed down around May 2000. The brooches are no longer being produced and the remaining stock has already been sold at the Royal Easter Show, so there are none left at all.
(With thanks to Jan Ross for the original brooch, Steve Jones for keeping me up-to-date with Australian goings on and Martin Floyd for his field work!)
---

To my knowledge this is the only reproduction that I have in my collection. I chose to buy it knowing it wasn't genuine as I think it is highly unlikely that I will ever possess an original. This is easily distinguishable from the Robertson's Coronation Golly which had "pop eyes" rather than directed downwards.

Unlike the Coronation Golly, this design was never issued by Robertson's. So is it really a reproduction? It is more of an unauthorised tribute brooch. It should not be confused with the 1930–80 Commemorative which was issued by Robertson's.

This brooch was first spotted around September 2001 bearing the date 1930-2001 and commanding very high prices for a non-official brooch. In March 2002 Richard Burton produced a second version of the brooch this time in a presentation box with the date changed to 1928-2001. He has detailed his reasons for producing the new brooch. The designs were well received and described as "colourful" compared to the official Robertson's brooches.

Following Richard's issue of the 1928-2001 Unofficial Goodbye Tribute, the source of the original 1930-2001 Unofficial Goodbye Tribute (not Richard) started to supply this Unofficial Golden Jubilee brooch.
Again, not approved by Robertson's. The badge started to make an appearance on the market at the end of March 2002. 100 brooches were issued – the reverse carries the unique issue number.
---

Issued by a long term Golly collector interested in producing good quality badges now that Robertson's have ceased to produce them.
Unofficial Manchester 2002 XVII Jubilee Games
Released around the end of August 2002, the badge was an edition of 100. Individually numbered on the reverse and mounted on a "Golly Revival" certificate. Golly carries the torch for the Manchester 2002 XVII Commonwealth Games.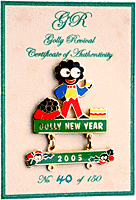 The second good quality brooch from the Golly Revival was issued to celebrate New Year 2003. 150 were produced. The reverse of the card it is mounted on explains: –
First Foot – The first caller at a house on New Year's Day. To wish a household food, drink, heat and prosperity in the New Year, a dark haired first foot enters through the front door with a gift of cake (shortbread), a wee dram, a wee dod of coal and a silver or gold coin.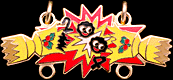 The loops on the bottom of the 2003 bar, lead us to anticipate that the brooch will build into a very interesting New Year collection - see the attachment for 2004!

In 2003, 150 sets of Four Seasons badges were issued by Golly Revival each one a quadrant of a circle. The colours and quality were exceptional. This one Summer, was again mounted on a Golly Revival Backing Card bearing the Robert Burns poem A Red Red Rose.
(Link courtesy of David Sibbald - be sure to listen to his recitation!)



In 2003, a badge was released to celebrate the 50th Anniversary of the Ascent of Everest on 29th May 1953. As the notes on the reverse of the presentation card record...Sir Edmund Hilary explained that he had not asked Sherpa Tensing to take this photograph because, "as far as I knew, he had never taken a photograph before, and the summit of Everest was hardly the place to show him how".


---
Just Golly!
[Non-Robertson's Merchandise]




Annette Morris an enthusiastic collector herself, had these brooches made for her Just Golly! club.
The club no longer exists.
---
Yahoo! GollyBC
[Unauthorised by Robertson's]


This on-line Golly Badge Club (GollyBC) was created at the end of 2001 following the merger of two other Yahoo! Clubs. Around 3 club badges are issued each year. Some members also get together in person for a "Sunday Lunch Club" (SLC). Tin and cut-out badges have been available at the previous SLCs. The club details are listed amongst the Related Sites.
---
Mis-Stamped Brooches
[Robertson's badges which should have failed Quality Control]


From time-to-time badges which have been produced with a flaw appear. They have failed to be stamped out correctly leading to part of the badge being plain metal. These should not have passed the Quality Control System, and it could well be that some of them were not in fact issued by Robertson's but from another source pre-Quality Control.
---


These plastic Gollies are thought to be Robertson's related, possibly given away at exhibitions rather than issued through the token scheme. They can be found in other bright colours (such as yellow) and have a silver or black coating. The back has a safety pin but no markings.
---
Golidays
[Non-Robertson's Merchandise]


During the 2002 World Cup a new type of Golly badge was issued by Golidays. The series continued in 2002 with several other badges including 'Trick or Treat', 'Be Mine', 'Celebrate', 'Winter Time', and then in 2003 with 'Magic' and a set of circus designs, 'Ring Master', 'Juggler', 'Lion Tamer' and 'Clown'. By 2006, the badge issues had ceased.
---
World Cup 2002
[Unauthorised by Robertson's]

During the 2002 World Cup several unauthorised brooches appeared including this one, in which the Golly clearly mimics the style of the genuine Robertson's Euro 2000 Golly footballers. The number of World Cup badges reflected both the vacuum left by the official retirement of Golly by Robertson's and the surge of National interest and hope for the England Football Team in the World Cup 2002 tournament. Note the tournament was in fact also jointly hosted with Korea but not mentioned on the design.
---

John Newton has issued several Golly badges including:-
Three Easter Bunny Badges were issued in February 2003 in time for Easter 2003. Chrome finish/blue egg, gilt finish/yellow egg and gilt finish/green egg.


Three Golden Cargo Badges were issued in May 2003. Green boat, Blue boat and Orange Boat.
---

A set of 8 badges to mark the 3,200 car adventure from Plymouth to Dakar. Each brooch sees Golly wearing an outfit to reflect the colour of the flag of each country that the cars passed through during the challenge.

The set was issued in January 2003.
---



Around January 2003, 100 sets of I'm A Golly Badge Collector badges were issued.
---
The Golly Girl
[Unauthorised by Robertson's]


In February 2003, The Golly Girl started to appear on the market. This was a prototype that Robertson's had made in the 1920s/30s but never made it into production (known from Colin Dodds' Golly publications). A genuine prototype was on view in Paisley at the Golly It's Good Exhibition (year 2000). However, the appeal of this badge and other prototypes could be easily viewed from September 2002 onwards, when colour images were made available on the Robertson's Golly Guide CD. The pictured yellow bodiced Golly girl was purchased from Richard Burton, but Buygolly.Net had a slightly different version of this badge plus one with a blue bodice available at around the same time.
---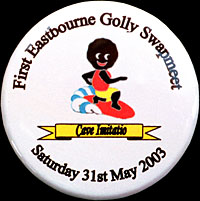 Uganda
[Unauthorised by Robertson's]
In May 2003, Simon Eyre held the first Eastbourne swapmeet. A set of badges were released with all profits over and above production and postal costs going to support work amongst street kids and other deprived children in Uganda. The set consisted of four colour variations (blue, red, green and yellow) plus an assortment of colour combinations.

A Cave Imitatio (Beware of imitations) tin badge was also issued on the day of the swapmeet.
The swapmeet was repeated in May 2004 and a tin badge also issued on this occasion. Again Uganda Street kids were the reason for the fund raising.
---
BuyGolly.Net
[Unauthorised by Robertson's]






BuyGolly.Net produced all the Golly badges pictured. The World Cup 2002 badge, clearly mimicked the genuine Robertson's World Cup 1998 badge, and then itself spawned another batch of unauthorised badges at the end of 2002 for English League clubs e.g. West Ham "Hammers" and Spurs. The enamelled Farewell badge mimicked the genuine Robertson's farewell badges but seized on the criticism by some collectors, that the originals were "dull" as they were plain gold or silver plated with no enamelling.


Following on from the Golly Girl, in March 2003 BuyGolly.Net also started to advertise several other of the Prototypes that Robertson's produced or artwork produced for in the 1920s/30s but never issued. These included the Miller 'action' sports badges (left) and badges which did not include the Golly such as the Orange Turbaned Golden Shred Lady (right). The Miller 'action' badges would presumably have had yellow waistcoats had they been issued by Robertson's.
---
In April 2003, Mick Harding announced plans to release a set of 3 badges to raise funds for the Anthony Nolan Trust. Details of how to apply can be found on the Buy It! section of The Golly Club. The main set is limited to 300 but a special set of 20 was produced to thank some of those who have made the project happen with a couple of sets going on ebay (profits still to A.N.T.) Please note this is the same charity that Richard Burton's Sara's Badge supports. The badges started being despatched in late June 2003.
Giving (The Nurse)
The A.N.T. needs people to give blood samples to be entered on the bone marrow donors register; to give bone marrow (stem cells) should they find a patient matching the donor, and to give cash donations to carry on researching and fighting Leukaemia.




Receiving (The Doctor)
The A.N.T. needs to receive more and more donors to hopefully save thousands more lives. Being a non funded charity any donations received help pay towards research and the cost to initially tissue type a new donor.




Saving (Combined)
If donors come forward and donations continue, then the A.N.T. will be there should any of us need their help in the future.
---
Justin and Leon Hills aim to continue the Golly legend by issuing their own Golly badge designs. Each badge is backstamped with Hills Brothers plus the year of production and comes with a numbered certificate.
S I T E M A P

Golly Corner: Curiosities / revised April 2005 Photographs Copyright Liz Prigg © 1998–2009