[Unauthorised by Robertson's]

Text by Richard Burton, P.O. Box 507, Sywell, Northants, NN6 0WR
Tel: 01604 499904
(See bottom of page for application address)
The Original Badge



The original badge that was copied carries the dates 1930 – 2001

Richard's Badge



Made in Britain
Quantity produced initially 500, increased to 1000 after being over subscribed

Price, £11 and presented in a quality presentation box
Carrying the correct date of 1928 – 2001

With all profits going to Leukaemia Research.

Size is 38mm diameter
Details of The Unofficial Tribute Golly Badge (By Richard).

This is not a reproduction of any Robertson's Golly Badge ever produced. Had it have been so, I would not have contemplated having this badge copied.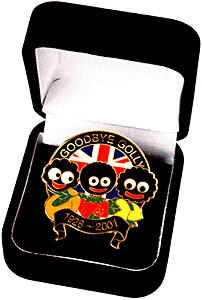 Why did I have this colourful, excellent quality, well designed tribute badge made in aid of Leukaemia Research?. Simply because of the quality, it was wrongly dated, and it wasn't a copy of any Robertson's Golly badge ever produced. Then the opportunity presented itself for me to have this badge copied with the date corrected, all at a very reasonable price. I thought about it long and hard, but on contacting twenty well known Golly collectors and friends about my intentions, and asking for their opinions, 95% replied, "Go for it, Richard". Hence my decision to get it manufactured.
I have contact with a large number of senior citizens and youngsters etc., who would dearly love to own one of these top quality badges. But no way would they be able to afford this inflated price, but I have now made it possible for some of them to add it to their collection.
If, however, any badge collector doesn't totally agree with my decision to produce this badge, the answer is quite simple, don't order one, the decision is yours. You may order a maximum of two but on the condition that those are for your own collection or for a family friend and not, I repeat, not to be put up for auction on the Internet or to obtain an inflated, silly price from unsuspecting badge collectors.
Application Details


Make cheques payable to: -

Richard Burton





If you would like one of the badges dated 1928-2001, then send your order to: -

Richard Burton
P.O. Box 507
Sywell
Northants.
NN6 0WR





Print your address on the back of the cheque
Remember to include your name and address
The brooches cost £11 each – 2 maximum may be ordered
Please allow 28 days for delivery
State that it is the 1928–2001 badge that you are ordering
Further message from Richard


This operation has also given me a wonderful opportunity to find out, first hand, the quality and finish that this British badge manufacturer is able to produce on a large badge, (roughly the same size as Sara's Badge) plus the fact, to put to the test their promise of, Quality, Delivery, and after sales service etc. I'm very happy to say, on all counts they turned out to be 110% superb, don't forget that when you are spending thousands of pounds of the charities money for Sara's Badge everything must be spot on. Happy collecting and thanking you for your continued support. Richard Burton
S I T E M A P

Golly Corner: Unofficial Tribute 2002 / revised March 2002 Photographs Copyright Liz Prigg © 1998–2009