Sara's Badge continues to be available through 2005. It is the last authorised Robertson's badge that can be purchased from source. See ordering details below.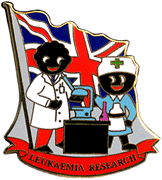 [Authorised by Robertson's]
The Design is Revealed
Richard Burton is pleased to present Sara's badge. A lot of thought has gone into the design. Issued in Jubilee year, the Union Jack has been chosen to underline Golly, a British tradition – raising money for a British charity – using a brooch produced by a British manufacturer. The research scientist (with 80's style pointed feet) is accompanied by a nurse (with 90s style rounded feet). The first time we have seen 2 Gollies on an official Robertson's brooch.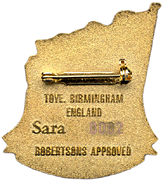 The reverse of the badge carries the name of Richard's grand-daughter Sara who has been the inspiration behind his charity fund raising. In addition the reverse bears the name of the British manufacturer, Toye who were involved in producing Standard White Waistcoat Golly brooches in the 1950s/60s. The unique number of the brooch and the fact it is Robertson's approved are also printed on the reverse. 10,000 brooches have been produced.
Each brooch will be presented in a burgundy colour box (official colours of the Leukaemia Research Charity). The lid will carry the Gold inscription, Golly Helping Others. It was the arrival of the presentation boxes which delayed despatch. Unlike the brooches, these could not be produced in the UK but continued delays meant that eventually an alternative supplier had to be found. The certificates of authenticity which accompany the brooches are pictured below.
Richard thanks you for your patience. He is very proud of the brooch, and has revealed the design so you can see that it will be worth the wait!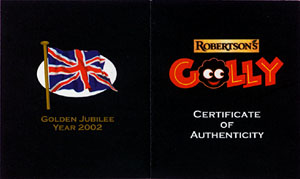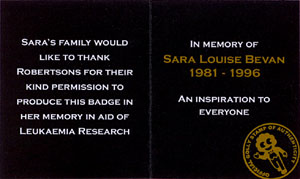 Application Details
Background to The Brooch
This Leukaemia Research charity Golly brooch has been produced by Richard Burton. Following the loss of his grand-daughter, Sara, to the disease, his hugely successful Leukaemia Research fund raising activities have included selling many Robertson's Golly brooches. Richard had been trying for quite a while to get the brooch produced by Robertson's, and following Golly's retirement, Robertson's gave approval for Richard to produce his own design.
In the January 2002 edition of the UK magazine Collectables, Richard wrote an article entitled "What's Happening in the World of Badge Collecting". In it he states, "The good news is that Robertson's have given me permission to produce a Golly badge from my own design in aid of Leukaemia Research. Therefore this will be the final Golly badge ever produced after the already announced Farewell Golly brooches in Silver and Gold. My aim is to launch this badge around April 2002. It will be a badge which our family will be proud of and the collector will be proud to have in their collection. It will be of the finest quality, well designed and something different from the previous Golly badges. It will come in a presentation box at a realistic price and will definitely be called Sara's Badge".
Sara's Badge....A British Made Badge, Based on a British Institution, Helping a British Charity
2005 Update
Richard will be issuing a silver version of Sara's Badge which will also incude other colour variations. It will be numbered and in the Sara's presentation box and will come with a certificate. It should be delivered around December 2005. The price will be £15 or 2 for £25. If ordered, the original Sara's badge is offered at £5 each and also the Australian set can be obtained for £10. All badges mentioned are sent with free postage and packing. To order the badge pleased send Richard your request but WITHOUT a cheque at this stage. Only when the order is ready for despatch will your cheque be required. Please note that Robertson's have not been involved in authorising these new variations.
S I T E M A P

Golly Corner: Sara's Badge 2002 / revised April 2003 Photographs Copyright Liz Prigg © 1998–2009