DIGITAL SUBSCRIPTION
The Robertson's Golly Guide [3rd Edition] only available online.

Launched May 2018 with regular updates in real time.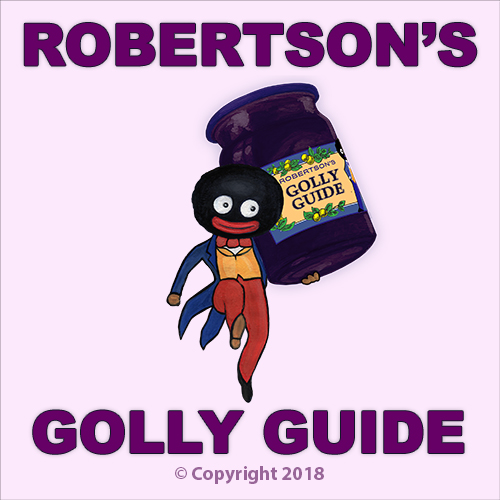 Twelve years after the Golly Guide first launched... it's back again! Reformatted, updated and improved. The new digital version is available by subscription only. Containing over 10,000 images covering all official Robertson's Golly merchandise known to exist... all items fully catalogued and listed... all in full colour... including badges, balloons, calendars, ceramics, clocks, clothing, enamel signs, games, homeware, jar labels, jeans patches, letterheads, paper items, pendants, postcards, price cards, stationery, stickers, tokens, toys and lots lots more... all in more detail than ever before.

Building on the work of the first and second editions of the Golly Guide, this is now the most complete record of official Robertsons merchandise ever created.
Fully re-formatted and updated with extensive guidance on rarity
Colour images of all backstamps
Many rare prototypes shown for the first time
Login from your smartphone, tablet or desktop
Compatible with all internet devices
Follow all new discoveries with regular updates*
View the content from any location in the world
Subscription required
Many sections have been expanded to make this the most comprehensive guide yet for anything to do with the Robertson's Golly. All the badges are covered in great detail, including new badges and new back stamp pictures. The Guide is now fully consistent with the latest version of the Golly Checklist (v7).

* 17 updates adding new content were made in the first 4 months alone!

Purchase your subscription
Register your account
Login and view from any where in the world
System requirements
The Robertsons Golly Guide can be accessed from all internet devices anywhere in the world. (Internet access required.)
---
BOOKS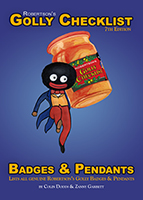 The Golly Checklist 7th Edition

Launched May 2017.


The Golly Checklist needs no introduction to most. Since it's creation in 1991, the Golly Checklist has been the gold standard by which collectors the world over have recorded their Robertsons Golly Badges and Pendants. Despite the lack of accurate records at Robertson's, the vast majority of the history of the Robertson's Golly has now been pieced together and is available for collectors to enjoy in a handy printed checklist.

Following 2-years of intense work, the latest update to the famous Golly Checklist now contains over 700 detailed images across 130 pages packed full of information, it's the most complete printed record of Robertson's Golly badges ever produced. Being an impressive 50% larger than the previous edition, and used by the worlds leading collectors it's the publication that no Golly collector should be without.

Contains details of ALL official Robertson's Golly badges and pendants, ever issued by this famous company. Including:

extensive guidance on rarity
clearer images of all backstamps
detailed notes on variations
advice on cleaning your badges
how to avoid the fakes
over 100 full colour images
and much, much more.

The seventh edition of the checklist is unrecognisable from those that have gone before as all makers backstamps have been redrawn, all tables have been reformatted and all text has been re-examined to make this the most extensive and accurate listing ever.
Only available from the
official Golly Checklist website shop
---
The club listed below will provide more brooch information and a source of second hand sales. If you do subscribe to it, please mention that you got the address from my web site
The Robertson's Badge Club

This is an active Facebook group currently with over 180 members. By far the most active group of collectors on the internet, with discussions and information shared between the group on a daily basis, it is also the best place to keep up to date with the latest news in the Golly world. The group meetings take place at least annually or on demand. They are known as the 'Sunday Lunch Club' as the group has been meeting informally since 2001. Special SLC badges are issued which can only be obtained at these gatherings. As a 'closed' group, membership is by request. Anyone interested in joining must have a Facebook profile. Search for group number 515150461906606 or follow this link.

A comprehensive listing of all historic meetings and badges issued by the Sunday Lunch Club can be found in the Robertson's Golly Guide (section W).



---
Badge Collectors Circle (BCC)

The club produced a bi-monthly newsletter, The Badger for many years with much useful general badge information. It regularly contained Golly offers from members and organised good swap meets where many Golly items could be found. The club ran from 1980 to 2011. The operation of the club has been scaled right back in recent years although it still has an active website for archive purposes. See the Badge Collectors Circle website for details. Although it is aimed generally at all kinds of badge collectors, there are many Golly sales within the newsletter.

Robertson's Golly Club

The original Robertson's Golly Club ceased in 1987.
In 1998 Robertson's started issuing customer numbers. This was used by Robertson's to track Golly collectors on a database. In June 2000 they started issuing membership cards to encourage customers to quote their customer numbers when ordering. Indeed, the 2000 Silver Millennium brooches were only available to customers who were able to quote their number. The 5000 Golden Farewell brooches to commemorate Golly's retirement in 2001 were offered to long term collectors, who were identified using the information from this database.
Just Golly!

Dave and Sheila Mallin, former members of the original Just Golly! club started by Annette Morrris, relaunched the club in 2003. The club was always more of a general Golly club which should appealled greatly to collectors interested in more than just the brooches. In September 2005 the club entered its third year and issued a new club badge. It has since been disbanded.


International Golly Collectors Club

This was a U.S. based club, which formed in 1995. It published four newsletters a year. The club was geared towards general Golly collectors and attracted worldwide membership. It is not thought to be in operation.

---
Richard Burton

Richard Burton has raised over £40,000 for Leukaemia Research after losing his 14 year old granddaughter, Sara, to the disease back in 1996. The profits made on the sale of his Rupert and other badges go to this charity.

Robert Opie Packaging Museum

The related sites section has details
S I T E M A P

Golly Corner: Golly Books & Clubs / revised Novemeber 2010 Photographs & Text Copyright Liz Prigg © 1998–2010