"Sara is and always will be my inspiration to carry on as long as possible"
Fundraisers Team Up for 2004
Richard Burton (right) has raised over £190,000 for Leukaemia Research after losing his 14 year old granddaughter, Sara, to the disease back in 1996. The profits made on the sale of his Rupert and other badges (including those listed below) go to this and closely related charities.
Lloyd Scott (left) first made the news in 2002 when he donned a diving suit to complete the London Marathon.
Richard has teamed up with Lloyd and says, "Lloyd has experienced the trauma of having Leukaemia himself and since then has worked tirelessly to raise millions for research".
Through selling the Australian set, Richard has presented Lloyd with £3,000 to help research into the illness. They are planning a fresh venture this year. Richard has designed a new set of Golly badges to commemorate Lloyd's achievements including his walk through Loch Ness in his now famous diving suit.
During July 2004, in recognition for all his hard work in raising funds for various Leukaemia charities, Richard was invited to one of the Queen's Garden Parties. He and his wife had a wonderful time and it sounds as if they were treated like royalty themselves. It was a golorious day weatherwise and he says it is a day he will remember forever.



The set costs £20 including P&P.
All profits will go to "Children with Leukaemia".
Cheques will not be cashed until order is despatched.
Richard now has the badges and has started despatching them.
The badges are available with a brooch pin or clutch/butterfly pin fastening. Any orders already taken will be supplied with a brooch pin but if you prefer the clutch/butterfly, just contact Richard and let him know.
---
Richard will be issuing a silver version of Sara's Badge which will also incude other colour variations. It will be numbered and in the Sara's presentation box and will come with a certificate. It should be delivered around December. The price will be £15 or 2 for £25. If ordered, the original Sara's badge is offered at £5 each and also the Australian set can be obtained for £10. All badges mentioned are sent with free postage and packing. To order the badge pleased send Richard your request but WITHOUT a cheque at this stage. Only when the order is ready for despatch will your cheque be required. Details of Sara's Badge and the Australian set can be found elsewhere on this page.


Watch out for Richard at Quorn!


The foot notes give details how to apply for a checklist. The 12th edition is now available. It includes special offers including every order over £25 will get a free Golly Badge.
---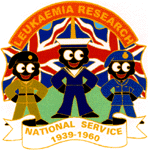 ---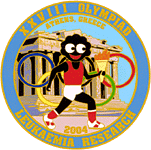 A single Golly badge has been produced to commemorate the Summer 2004 Olympics in Greece.
40mm diameter
Produced by Toye & Company
£10 (including P & P)
Complete with a presentation box
Now available
Cheque and postal details as above
---
Euro 2004
[Non-Robertson's]
A Euro 2004 Golly badge is now available from Richard. Produced by Toye & Company, the badge is 40mm diameter. The edition is limited.
£10 including P & P
Cheque and postal details as above


The 1966 World Cup Winning team as well as other Golly football team badges are helping to raise money for the charity. There are 70 different badges ranging from the Premiership to the Nationwide Conference. Anyone wishing to see the full range should send a stamped self addressed envelope to the above address.
Also available via Richard are a pair of John Newton's Rugby Gold Cup badges. These are available for £9 each.
---
The set of 3 comes complete in a presentation box with numbered certificate. 1,000 sets are being produced. Each set costs £25 (includes P&P within the UK).

From April 2004 each set will come free with a Golly & Rupert badge whilst stocks last.
Make cheques payable to: -

Richard Burton No. 2 Account





Application Address for Australian Set

Australian Badge Offer
96 Staplehurst
Wooden Hill
Bracknell
Berkshire
RG12 8DD
---
Other Golly Sales
---
Polite Reminders
Richard would like to remind everyone that even if you ring and have a chat with him, when you write to him, please:–

include a contact phone number
if ordering, please restate your badge requirements
if asking for info, make it clear whether you are requesting info on "Golly", "Rupert" or the badges which show "Golly & Rupert together" (the details of his "Golly & Rupert together" sales and how to order are already included in this section of the site).
if asking for info, include a stamped, self-addressed envelope.
Richard now has his own checklist of non-Robertson's Golly badges which is available to anybody who provides him with a stamped, self-addressed envelope with dimensions of 9" x 6.5". The list is frequently updated.
S I T E M A P

Golly Corner: Richard Burton / revised September 2005 Photographs Copyright Liz Prigg © 1998–2009