Full Press Release on Golly's retirement
Please note there was a press embargo until 23rd August 2001.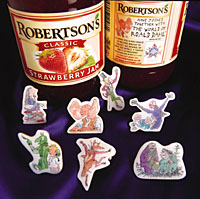 Robertson's, has today announced plans to replace its historic Golly Collector Scheme with a pioneering new partnership with the World of Roald Dahl.
The scheme launches with a badge range featuring seven key Roald Dahl characters illustrated by Quentin Blake, such as the Big Friendly Giant, Matilda, James & the Giant Peach and Willy Wonka. This is Robertson's biggest initiative to date and as such, Robertson's expect the scheme to spark widespread interest amongst a new generation of collectors.
Roald Dahl was voted the UK's favourite author last year despite tough competition from the likes of 'Harry Potter' author J K Rowling. Roald Dahl has proved to be an author that occupies an unique, timeless place in the collective conscience of today's public.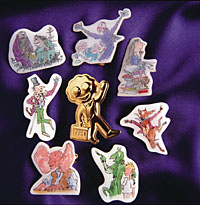 Robertson's Brand Director, Ginny Knox stated: "We're incredibly excited about the new scheme and feel that it is a fantastic fit with Robertson's well established values of family fun and Britishness. With annual UK sales of over one million books, Roald Dahl evokes strong feelings of warmth and affection with today's parents and their children."
Commenting on Robertson's decision to replace Golly with the World of Roald Dahl, Knox continued: "The Golly Collector Scheme has proved incredibly successful during its 73 years of existence, but our research has shown that whilst it still has a great deal of appeal amongst older users, kids are not really interested in – or familiar with – the Golly character. And whilst we're obviously sad to say farewell to Golly, like any successful brand we're constantly evolving to ensure that we remain interesting to today's consumers. As such, we're confident that the likes of Fantastic Mr. Fox, The Twits and The Witches, will capture the hearts and minds of all of our consumers, much as Golly did in his day."
The 'World of Roald Dahl' will appear on jars of Robertson's jams and Golden Shred marmalade from 1st September 2001.
The new scheme forms a key part of Robertson's redesign of all product packaging.
The Golly collector scheme will be running on Robertson's mincemeat until Christmas.
This is part of an initiative to strengthen Robertson's appeal to modern families with kids. At the same time, we are updating our classic jam and mincemeat label designs and launching a very contemporary range of premium jams and marmalade called Robertson's Absofruitly
---
What the papers had to say
On 23rd August 2001 all the main British newspapers covered the story of Golly's retirement.
The official press release with quotes from Robertson's Ginny Knox were included in the articles. In addition they reported how, in the past, Robertson's had "passed through the eye of the politically correct storms" and had defended Golly as nothing more than a popular advertising mascot only now to decide that it made commercial sense to replace him. They mentioned that the move was welcomed by the Commission for Racial Equality who said they had advised Robertson's to drop Golly twice in the past decade and to consult their customers whether they found Golly offensive.
Some of the more memorable and individual reporting is quoted below.
Daily Mail – Full Page Tabloid Report
Goodbye Golly – The controversial image which inspired generations of collectors disappears from
jars after 91 years.
With his natty bow tie and trousers, flowing jacket and distinctive yellow waistcoat, he has danced his way across the label on pots of Robertson's jam for the best part of a century.
Robertson's defended Golly as a fictional nurseryland character, not a depiction of a black person. However, the character was axed from television adverts in 1988, although he remained on labels. And despite the controversy, Golly's popularity has never waned with collectors.
Robertson's still receives 340,000 requests a year for badges and other Golly branded items.
The Daily Express – 3/4 Page Tabloid Report
Golly! Jam comes unstuck with 'bad taste' logo.
After surviving numerous allegations of racsim Golly is being made redundant by the marketing men, who claim the image is outdated.
At the height of Golly's, popularity in the 1970s, more than 500,000 were sent out every year but the figure has dwindled to 250,000.
Ginny Knox (Robertson's brand director) was quoted as saying "Golly has done a good job for us. We sell 45 million jars a year and received about 10 letters each year complaining about Golly. The vast majority of people saw him as a non-violent family image. People will be sad to see him go but gollys are not really bought as toys anymore."
Robertson's expects the demise of Golly to spark a rush for badges and commissioned a limited edition, nine carat gold Golly, which will sell for £20. Every worker at the Robertson's factory in Manchester will also receive one.
There are more than 60,000 registered Golly collectors.
Editorial Comment: Removing Golly is folly Refering to Robertson's having retired Golly on the grounds that he does not appeal to youngsters, the newspaper comments "Perhaps the company will now find itself accused of ageism. That would have as much foundation."
The Times – 1/2 Page Broadsheet Report
Golly on jam jars comes to a sticky end
To some, he was an innocent grinning character who brightened the breakfast tables and jam sandwiches of millions of children. To others he was an offensive stereotype from another time who had somehow survived against the odds into a multi-cultural age.
Harmless fun under threat from political correctness gone mad, said one side. Charmless bigotry distorting the minds of the young, said the other.
Robertson's admit it had come under increasing pressure to move its advertising into line with attitudes in the 21st century. Despite a series of changes to make the character less controversial Golly continued to attract criticism when, 15 years ago, he was moved from the front to the back of jam jars after accusations of racism.
The Independent – 1/8 Page Broadsheet Report
After 91 years, Golly told to leave the breakfast table
The nation's liberal marmalade munchers may finally eat their toast with a clear conscience. After 91 years as the politically questionable face of jams and preserves, the Robertson's Golly has been given his marching orders.
The last Golly will appear on jars manufactured at the end of March.
The Sun – Less than 1/8 Page Tabloid Report
Golly axe from jars
Swapping Golly labels for enamel badges was once one of the UK's favourite loyalty schemes, with families collecting more than 20 million.
The Guardian – Less than 1/4 Page Broadsheet Report
Time runs out for Robertson's golly
The Daily Telegraph – Less than 1/4 Page Broadsheet Report
Well-preserved Golly retires after 91 years
The company, which persisted with Golly despite being accused of racism in the Eighties, bowed to the inevitable yesterday, announcing that the symbol was "no longer relevant" to children and families.
It [Robertson's] hopes the 60,000 registered "Golly collectors" will switch their affections to the new characters.
He survived as the Empire disappeared and was replaced by the Commonwealth. The only concession to fashion was the subtle rebranding which entailed calling him Golly.
Editorial Comment: Jam tomorrow

That Robertson's the jam-maker is ending its long association with gollies will make some consumers spread their marmalade with a slightly more mournful wrist action this morning.
The decision looks 'entirely like commercial good sense' based on the fact that 'whatever the rights and wrongs of the Golly figure', 'it is not one with great resonance among children and the new ranks of jam buyers'. The new characters could hardly be accused of being politically correct – 'Mr and Mrs Twit, the couple that loathe the world and each other and Dahl's children-hating witches are among the cast recruited by Robertson's to charm its customers.'
In time, all marmalade spreaders, including Golly fans should warm to the new style and feel that elusive strength magically return to their wrists.
Collectors letters to the press/Robertson's following the news
BBC news coverage
---
To commemorate Golly's 'retirement', Robertson's produced 5,000, 9 ct gold plated, 'Farewell Golly' badges, allowing long-term collectors to complete their collection with a final piece of Golly memorabilia. As a result of the phenomenal demand for these badges, a silver version of this badge has now been produced which will be available from January 2002. This badge is identical to the Gold version and will be individually boxed and come complete with a certificate of authenticity. However unlike the Gold version, the Silver 'Farewell Badges' will NOT be part of a limited edition set and therefore neither the badge nor the certificate is numbered. The 'Silver Farewell Golly' is available to all collectors, the only limitation being one application per household – please see below.
We will be issuing a letter to our top 5,000 lifetime collectors, inviting them to apply for a Gold 'Farewell Golly' badge. Each badge is 9ct. gold plated, individually numbered and comes in a box with a numbered certificate of authenticity. 5000 'Farewell Golly' badges have been produced, in the light of anticipated increased demand, an amount well in excess of the usual number of 'special edition' Golly badges produced.
We will only be issuing the Gold 'Farewell Golly' badges to those collectors who receive a leaflet and apply using the order form. However any badges remaining from this will be offered to other collectors on a first come, first served basis. Collectors who have not received an official leaflet and order form but who wish to register their interest in any remaining badges should send their full name and address ONLY to the following address. Please do NOT send any cheques or cash. No tokens are required. The leaflets started arriving the week commencing 8th October 2001.
Our Questions
The following questions were submitted by Golly Corner to be answered by an official spokesperson for Robertson's. Two were answered during the September 2001 on-line chat session. Robertson's kindly answered the other six afterwards. Any delay in responding was due to the marketing company. Within two days of approaching Robertson's directly, they responded. (Thanks to the other collectors who emailed me with additional suggestions for questions especially Rod Joyce, Neil McGhee and Shirley Burnett).
During Session
Liz Prigg: Why wasn't it possible to continue the Golly scheme in parallel to the new Roald Dahl scheme?
Liccy: Ian from Robertson's said: We felt we wanted to focus and put all our energies behind the Roald Dahl scheme.
Jessica: Do you expect to now regularly change promotion schemes or is the Roald Dahl scheme expected to last indefinitely?
Liccy: Ian from Robertson's said: We are hoping that the Roald Dahl scheme will last at least another 91 years.
After Session
Golly Corner: Is it possible Golly could make the odd guest appearance in the future?
James Robertson & Sons: Our future focus for Robertsons will be to establish the brand with the new Roald Dahl characters however we have given the go-ahead for a couple of one-off Golly badges to be produced for charity; one with profits going to Children in Need, and another to Leukaemia & Cancer Research (through Richard Burton). We will not be considering any further badges for the future.
Golly Corner: Why is there no mention of Golly's role in Robertson's past in the history section of the new web site?
James Robertson & Sons: The web site was initially set up to publicise the new collector scheme and our partnership with Roald Dahl. As part of the site we have a number of old advertisements within the history section, some of which feature Golly. This section of the site is an area that will be expanded in the future, so I'm sure that Golly will get a few more mentions.
Golly Corner: If the aim was to target youngsters why were so many expensive Golly limited editions released within the last few years?
James Robertson & Sons: Whilst very successful and much loved for the past 73 years, we took the decision to retire Golly as today's families, particularly kids, told us that he was no longer relevant or of interest to them. The Roald Dahl figures; such as the BFG, Matilda and the Twits are much more familiar characters to today's children. The limited edition sets were created to celebrate key diary events and were aimed specifically at the existing loyal collectors.
Golly Corner: Why limit the Farewell Badge to 5000 as there are going to be a lot of disappointed Golly Badge Collectors who have a Golly Membership Card?
James Robertson & Sons: We wanted to reward our most loyal collectors by offering the chance to collect the Gold Badge. We limited it to 5000, as we wanted to make the offer more exclusive and therefore mean more to our valued long-term collectors.
Golly Corner: The announcement of Golly's retirement has caused a lot of disappointment – would a petition to bring him back make any difference?
James Robertson & Sons: Golly was a very successful and much loved character for over 73 years but our research amongst modern families with kids showed that Golly was no longer relevant and that it was time to replace him with an alternative collector scheme. We hope that the Roald Dahl characters will be as fondly regarded as Golly was and still is.
Golly Corner: If Robertson's have truly consigned Golly to the history books would they consider allowing someone else to use him either totally or in collaboration?
James Robertson & Sons: Golly is intrinsically linked with Robertson's history. The reason we took the decision to replace him with Roald Dahl characters was to strengthen our appeal with modern families with kids and thus modernise the image of the brand. If Golly was continued to be used, it would be very difficult to modernise the Robertsons brand and make the Roald Dahl collector scheme successful.
Other Golly Related Questions Asked
Georgina Duffy: Did Roald Dahl ever collect Golly brooches?
Liccy: No he did not collect Golly's to my knowledge.
Jenny Prigg: We feel Golly is still relevant today – he is part of history and part of every breakfast table in the land. Why should he be retired before his centenary?
Liccy: Ian from Robertson's said – Unfortunately, resarch told us that most people with familes did not share your view. Golly served us well and will be fondley remebered
Jenny Prigg: Thank you for taking the time to talk to us Liccy. We love Roald Dahl – we are just so very very sorry to lose Golly. Hope you understand
Liccy: Thank you Jenny Prigg i hope you grow to love the new badges as much as you love the Golly.
Will (Gollyman): Hi Liccy. Did you ever collect or have a Golly?
Liccy: Hi Gollyman, yes I did collect gollies my best friend was called Golly and I used to give them to her.
Helen: Do you think Robertsonís discontinued the Golly, as it is politically incorrect?
Liccy: No it was purely as we have said before a comerical decision.
Natalie: The Golly is a national institution and after 91 do you really think it is time to replace him?
Liccy: Ian from Robertson's – Golly has served us well for 91 years but is no longer seen as relevant particulary for children today.
Unrelated Golly Questions Asked
Jeremy: Who do you think will be the most avid collectors of the new badges?
Liccy: We have also just launched some greeting cards and judging by the way they are selling, children of all ages adults included will love the badges.
Robert: I heard that there were plans to remake the film charley and the chocolate factory again, or release it as a stage show. Is this true?
Liccy: Yes, Warner Bros are filming a remake of Charlie but it is not yet in production and are also working simultaneously on a musical, but they are both quite a long way off.
Angela: Do you think that there are enough characters to last for 91 years?
Liccy: Yes there are many characters and they are found in the pages of his books to be getting up to many things.
Georgina Duffy: What was Roald Dahl's favourite jam?
Liccy: Strawberry jam and he did love marmalade
Stuart: Hi Liccy. During the year that it would take Roald to write his stories, did he ever reveal the plots to you, if so, did you ever dissagree with him about a character or the story line. Did he ever take on board your comments and change the plot?
Liccy: Hi Stuart, he would read to me in bed the stories in progress. Sometimes I fell asleep he then would get very upset return to the hut and wonder if he should change the plot, but no we never disagreed but we would discuss characters sometimes comparing them with people we knew.
Benjy: Why has Robertsons chosen Dahl and not, Harry Potter or Enid Blyton for example?
Liccy: Ian from Robertson's said: The values of Dahl are very similar to values of Robertson's being family and fun, Quentin Blake's illiustrations are visually perfect to replace Golly
Liz (Frankly): When did Roald first start writing?
Liccy: He began writing when he was invalided out of the air force, during the second world war and sent to Washington DC as an air attache and his first story, for adults was about his flying experiences called Over to You.... It looks like this is all we have time for. Thank you for your questions they have all been great and I hope you enjoy wearing your new Dahl badges .
Mac: what are your hobbies?
Liccy: Cooking, eating and drinking good wine.
Liz (Frankly): Do you think this new scheme will encourage young people to read?
Liccy: I hope so, while you are eating your bread and jam.
Nicola: What are your future plans for the Collector scheme?
Liccy: Clare from Robertson's said: The sky is the limit, there are lots of plans for exciting badges . There will be much more coming on the website and really great links with the books them selves
Liz (Frankly): What were Roald's greatest influences?
Liccy: I think his greatest influence was his mother and the experiences he had at school and later in the war when he was a fighter pilot
Liz (Frankly): How how long did it take Roald to write a book?
Liccy: About a one year.
Liz (Frankly): Did Roald have a good father like Danny's Dad?
Liccy: Sadly his father died when he was three if he had lived I'm sure he would have been fantastic.
Fiona: What is your favourite revolting recipe?
Liccy: Marshmallow Pillows
Jenny: Do your grandchildren read the books?
Liccy: Yes
Wally: Is it true that Roald was a chocoholic?
Liccy: Yes he ate chocolate after lunch and dinner
Paddy: Which of Roald Dahlís characters do you think the Golly would get on best with?
Liccy: I think Golly would love them all but possibly travelling with grasshopper on the peach to New York would have been rather fun for him
Jack: Out of all the sweets that Wonka created which one would you most like to try?
Liccy: I would loved to have lickable wallpaper in my house, perhaps Robertson's will find a way of making it . I do have a recipe in the book of the First Revolting Recipes
Jake: What do you think would happen if George had given his marvelous medicine to the twits?
Liccy: Brilliant question! I have a feeling they would have become even more revoloting if that was possible and would be circulating in outer space for ever.
Red: If you could meet any Roald Dahl character who would it be and why?
Liccy: Wonka, he would help me invent lots of new and marvellous recipes.
Gail: Did Roald ever write anything for the adult market?
Liccy: Yes there is a great collection of adult short stories some of which have now been specially published for young adults, in three paperback collections called The Great Automaic Grammatizator, Skin and the Wonderful story of Henry Sugar
Becky: What did you and Roald think about the many film and TV adaptations of his novels?
Liccy: Unfortunately he was not keen on the ones made before he died, whch were; Willy Wonka and The Witches. The main reason he did not like The Witches was that they changed the ending.
Lorraine: Do you think Roald would've liked Harry Potter?
Liccy: I think Roald would have loved Harry Potter and would be thrilled to see another successful childrens author being read by so many children
Nicky: Apart from being a talented writer, did Roald have any other talents?
Liccy: yes he had many many talents he was a prize onion grower, Orchid grower, scratch golfer and a jolly good cook.
Gemma: If you were stranded on an island, which character would you rather have with you and why?
Liccy: I would take James with me, if he could sail the Atlantic in a peach i reckon we could survie on an Island and think of the wonderful friends the island animals would become.
Ashleigh: Have you ever written a book?
Liccy: Yes, I have writern three cookery books. the last one was called 'Even more revolting Recipes' and went into the book shops about a week ago.
Daniel: Are any of his characters based on himself?
Liccy: No, but I think a little of the BFG reminds me of him and I think he would have liked to have been Willy Wonka
Alex: What was it like being married to Raold Dahl?
Liccy: The most exciting thing in the world. Every day was good fun.
Scott: Have you spoken to Quentin Blake? And if so is he just as happy?
Liccy: Yes, Questin is very pleased to see his characters turned into wonder badges for you all to wear.
Daniella: Was Roald and yourself a fan of the Golly?
Liccy: Yes
Hannah: How do you think Raold would feel knowing that his characters are still as popular as ever and will be fronting Robertsonís Jams and marmalades?
Liccy: He would be trhrlled espcially as Robertson's jam is availble throughout the UK at a reasonable price.
Taly: Why do you think his stories are so popular even today?
Liccy: First of all they are very funny and everyone can have a good laugh. They also put children first and it's impossible not to turn to the next page.
Rachel: Are any of the characters based on you?
Liccy: No, not that I know of but I suspect Mrs Twit.
Dan: What is your favourite character that Roald created?
Liccy: Centipede.
Sarah: Liccy how do you feel knowing that Roaldís story characters are replacing the famous Golly character?
Liccy: I'm thrilled. I hope all your school blazers will be covered by them. If you are too old to have a blazer you can pin them on your pyjamas.
Golly gosh – where's Golly gone?
(Supplied by MarketTiers4DC)

Readers have long known that Roald Dahl's books are jam packed with good stuff. Now, after 91 years Robertson's – producers of the UK's favourite jams and marmalades – have replaced their Golly Badge Collector Scheme and formed a new partnership with the World of Roald Dahl. The move was taken after research showed that kids were not really interested in – or familiar with the Golly character.

The new badge range features favourite characters from Roald Dahl's worldwide best sellers – the BFG, James, Matilda, The Twits, Fantastic Mr. Fox, Willy Wonka and the Grand High Witch. All the characters are illustrated by Quentin Blake and they, like all Dahl's characters, are instantly recognisable to children and parents alike. It is hoped that they in turn, will capture the hearts and minds of the British public just as Golly did in his day.

In a World Book day poll in the year 2000, Roald Dahl was voted the UK's favourite author – no mean feat, ten years after his death. His modern classic tales dominate the bestseller lists – 35 million copies have been sold to date!

Liccy Dahl, Roald Dahl's widow, will be joining us for an online chat to give a personal insight into the man himself and what drove his passion for writing about and creating such memorable characters. So join us on the 21st September 4.30pm – 5.30pm to find out more...


S I T E M A P

Golly Corner: Goodbye Golly! / revised November 2001 Photographs & Text Copyright Liz Prigg © 1998–2009