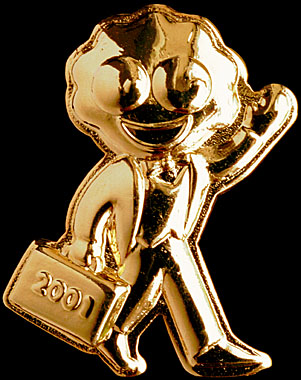 In August 2001 Robertson's announced Golly's retirement. At the same time they announced that a Golden Farewell Golly brooch would be issued. In October they also announced a Silver Farewell Brooch. The Gold was limited to 5,000 and Robertson's invited collectors to apply based on the company's computer records. These would be used to target their most loyal 5,000 'lifetime collectors'. Each brooch cost £20 and were despatched mid-November 2001. Each brooch is also individually numbered on the reverse.
The brooches were despatched in a black velour presentation box, 7cm x 8cm with the gold outline of the farewell brooch embossed

on the lid. Inside a rich blue silk was used to mount the gold brooch. The inside lid carried the inscription "Farewell Golly". Also enclosed was a separate certificate of authenticity and one of the badges from the new set of the Roald Dahl range. The reverse of the Roald Dahl brooches are very similar to the reverse of the later Golly brooches except the lettering has a distinctive pink tinge. The new Roald Dahl "Willy Wonka" badge is 3.5cm high.
Due to demand, a Silver Farewell Brooch was announced in October 2001 and issued in January 2002.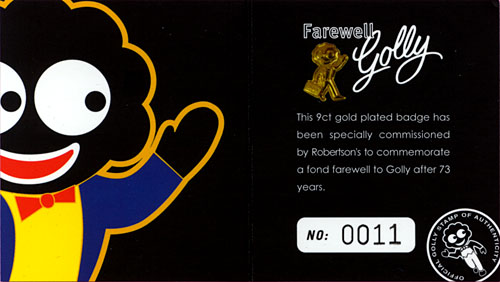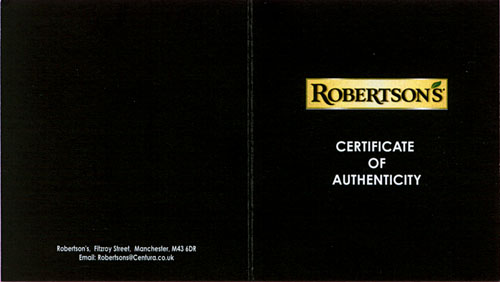 ---
The invitation took the form of a leaflet. The front and inside front pages only are shown.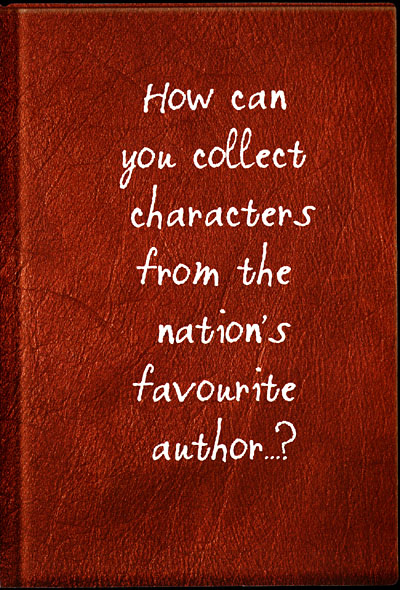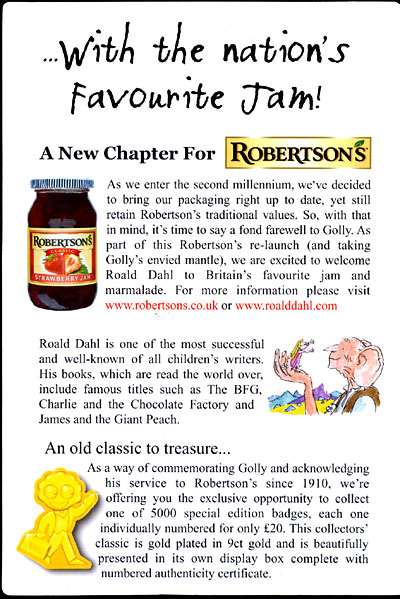 In December 2001, 150 of the 5000 brooches were made availabale to Australian collectors and a different leaflet was issued. By May 2002 they had sold out. Some work has been done in determining which number Gold Farewell badges were issued in Australia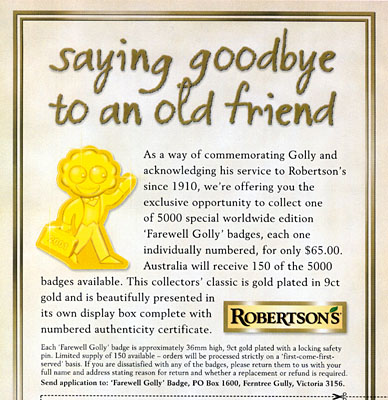 (Leaflet sent to me by Elizabeth Bannister – thanks Lizziebee!)
S I T E M A P

Golly Corner: Gold Farewell Golly 2001 / revised November 2001 Photographs Copyright Liz Prigg © 1998–2009