In April 2000, a silver Golly 2000 brooch was issued to celebrate the start of the new Millennium. Each brooch was presented in a silver presentation box. The reverse of each brooch bears a hallmark. Each brooch was also individually numbered and aptly only 2000 were issued. A certificate was also provided. The brooches were only available to Robertson's customers with an existing customer number. Each brooch cost £25 but no tokens.
No leaflet was ever issued to promote the Silver Millennium brooch as it sold out within a very short space of time without the need for publishing promotional material. However a Prototype Leaflet was produced.
In July 2005, two prototypes came to light. One with gilt plated copper (gold coloured metal) with hard enamel finish and the other with nickle plated copper (silver coloured metal) with hard enamel. Unlike the final badge issued by Robertson's which was silver plated, both had the same patterned back and backstamp as the 1998 Sanata and 1998 World Cup brooches. Also the reverse carried a standard pin/clasp as opposed to the butterfly pin on the final silver plated badge issued by Robertson's.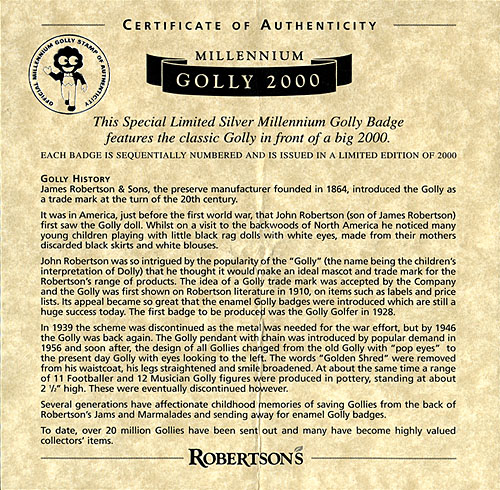 Thumbnails of full collection
S I T E M A P

Golly Corner: Silver Millennium Golly 2000 / revised July 2005 Photographs Copyright Liz Prigg © 1998–2009