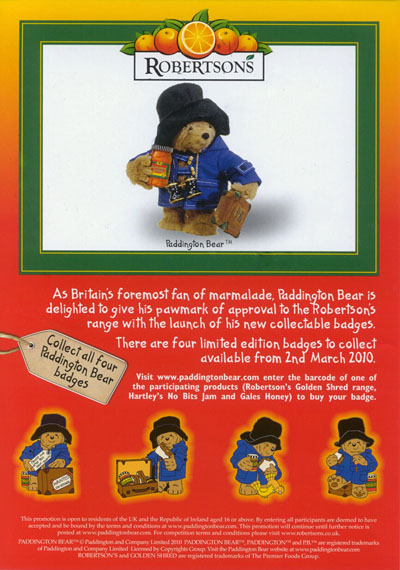 Press Release Embargoed until Tuesday 2nd March 2010
PADDINGTON BEAR TO SAVE MARMALADE FROM ITS STICKY SITUATION
Children's character joins forces with Robertson's Golden Shred to save the Great British Breakfast.
The world's most famous marmalade lover, Paddington Bear, and the world's favourite marmalade, Robertson's Golden Shred, today announce their partnership to inject excitement into the breakfast market and reignite consumer interest in the citrus spread.
Robertson's hope that the coming together of these two British icons will highlight how breakfast provides a reason to sit together as a family and redress a declining marmalade market, which industry figures show is facing competition from perceived, more convenient breakfast alternatives such as cereals and porridge. Time spent around the table at breakfast is also in decline, with people grabbing breakfast on the run or for some of the population not at all.
Created over 50 years ago by Michael Bond, Paddington Bear is an icon if children's literature and a national treasure in Britain. Sales of Paddington books are now in excess of 35 million copies worldwide and sales of soft toys are estimated to be well over 25 million. In 2009 he was voted Britain's Best Souvenir by travellers at Heathrow Airport.
Robertson's Golden Shred, created in 1864, is the world's best selling marmalade with over 14 million jars being sold worldwide every year.
David Atkinson, General Manager Spreads and Beverages at Premier Foods, owner of Robertson's comments:
"A large proportion of Robertson's consumers have grown up as fans of both marmalade and Paddington Bear. We hope parents and grandparents will introduce a new generation to their childhood favourites and see Paddington as a way to help raise interest of thios flavoursome breakfast essential amongst a younger audience. After all, there's no better endorsement than from the world's greatest marmalade fan."
Paddington Bear is loved by mums and dads who grew up watching the iconic BBC TV show in the 1970s and '80s, making him the perfect ambassador for Robertson's to reach families. The link aims to highlight the simple pleasure of the familty breakfast occasion and how marmalade is a product for the whole family that provides a great start to the day and can be enjoyed as part of a healthy balanced diet.
Karen Jankel, daughter of Michael Bond and Managing Director of Paddington and Company Ltd, comments:
"Paddington first arrived in London having survived the long journey from Darkest Peru on nothing more than a jar of marmalde. He loves it to this day and almost always has a marmalade sandwich tucked under his hat 'in case of emegencies'. The association with Robertson's is a natural and authentic fit and one which we hope will last for many years."
To celebrate the association, Robertson's is launching a new scheme of Bear Collectables - a range of four badges than be purchased at £1.10 each from www.paddingtonbear.com from 2nd March 2010 on entering a barcode found on all Robertson's marmalade jars. The Paddington Bear collectable scheme aims to engage both children and adults and draws on Robertson;s heritage as the brand behind one of the longest running collectables schemes ever.
Ten facts about Robertsonís Golden Shred
Robertsonís Golden Shred was launched in 1864
Robertsonís Golden Shred was originally produced in the back of a shop before a factory was built to meet increased demand
It is the ĎWorldís Favourite Marmaladeí
14 million jars of Robertsonís Marmalade are sold every year worldwide
Robertsonís Golden Shred was granted the Royal Warrant in 1933
The range consists of Robertsonís Golden Shred, Robertsonís Golden Shredless, Robertsonís Silver Shred, Robertsonís Golden Shred Light and Robertsonís Golden Shred Chunky
After 146 years of marmalade in jars, ĎRobertsonís Golden Smoothí will be launched in March 2010 - in a new squeeze format and with no bits in it
55 per cent of Brits prefer marmalade on toast
54 per cent of Brits like their toast to be hot when they eat it
People in Glasgow were found to be the biggest fans of toast and marmalade in the UK
Ten facts about Paddington Bear
Paddington Bear loves marmalade and keeps a spare marmalade sandwich hidden under his hat in case of emergencies!
Paddington Bear was created by Michael Bond more than 50 years ago after he spotted a lonely bear left on the shelf in London's Selfridges store and bought it as a present for his wife. Within ten days he had completed his first story and A Bear Called Paddington was published in October 1958.
Michael Bond was inspired to call his bear Paddington as they lived near Paddington Station at the time.
Paddington Bear lives with the Brown family at 32 Windsor Gardens, Notting Hill. They took him in after finding him alone on Paddington Station.
Paddington Bear's suitcase contains a photo of his beloved Aunt Lucy and a secret compartment!
There are 12 full length Paddington Bear novels. A total of 35 million Paddington books have been sold sold worldwide and around 20,000 people visit his website every month (www.paddingtonbear.com).
The Paddington FilmFair series on the BBC in the 1970's regularly attracted over 8 million viewers and is still broadcast across the world in the US, Australia, Japan and Asia. There is currently a Paddington Bear movie in the pipeline.
The first 'plush' Paddington Bear was created in 1972 and in 2009 it was voted Britian's Best Souvenir by travellers at Heathrow Airport.
There is a life size bronze statue of Paddington Bear at London's Paddington Station.
Famous fans of Paddington Bear include Stephen Fry, Jeremy Clarkson and Suri Cruise.
S I T E M A P

Golly Corner: Paddington Bear Press Release / revised March 2010 Photographs Copyright Liz Prigg © 1998–2009