In July 2000, 5000 boxed sets of 6 brooches were issued to celebrate Euro 2000. Each set had a unique number on the reverse and a certificate of authenticity. Each set cost £30 and 3 tokens – it was this set that marked the start of the "3 tokens for as much merchandise as you like!" offer.
The boxed set had a plastic lid which was prone to cracking in the post and did not live up to the trend that the 1998 World Cup, 1998 Santa & Rudolph and 2000 Silver Millennium brooches had started of good quality presentation. There was no explanation in the packaging of which team was which.
Euro 2000 consisted of 23 football (soccer) matches which took place during June 2000. It culminated in the final on July 2nd between France and Italy. France emerged the winners and it gave them the distinction of being both the current World Cup and European Cup holders. Ever wondered why Spain or some of the other teams were not included in the line-up? The answer – Robertsons' designers did research into the most popular teams!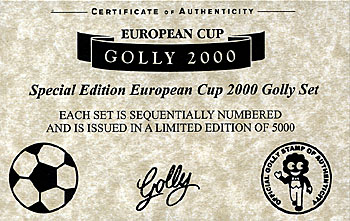 Thumbnails of full collection
S I T E M A P

Golly Corner: Euro 2000 / revised June 2001 Photographs Copyright Liz Prigg © 1998–2009